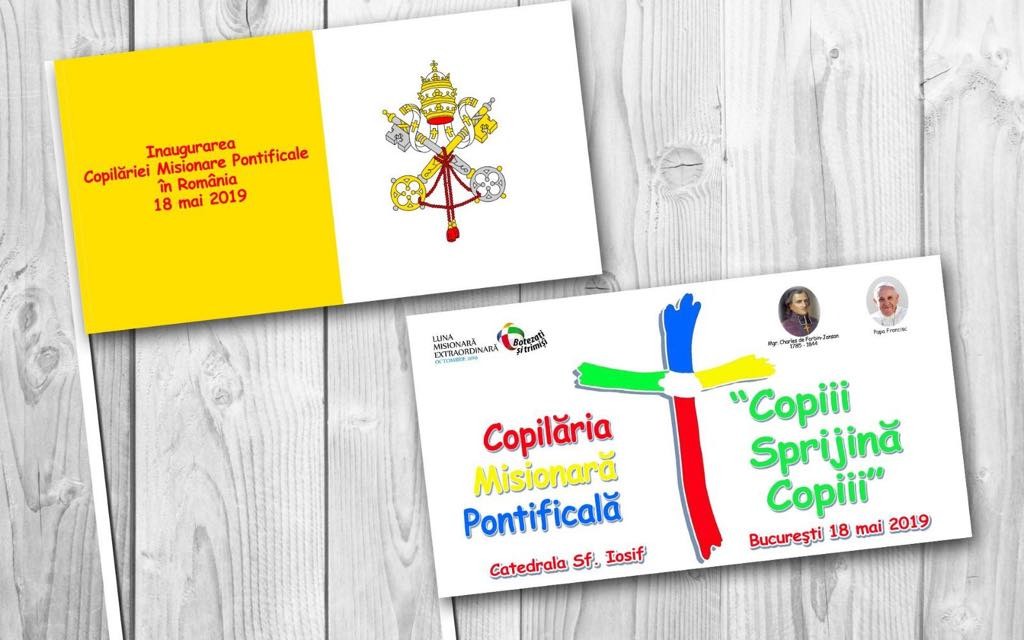 With the first group of "small missionaries", Missionary Childhood is born in Romania
On May 18th the Pontifical Society of the Missionary Childhood will arrive in Romania thanks to a bond of a group of children during Holy Mass celebrated by the Archbishop of Bucharest, H.E. Msgr. Ioan Robu, in the "Sf. Iosif" Cathedral of the capital.  Roberta Tremarelli, Secretary General of the Pontifical Missionary Childhood, will be present.

The proposed theme is "Baptized and sent. Small missionaries in the world" and is inspired by Pope Francis' proposal for the Extraordinary Missionary Month, October 2019, which aims to renew the missionary spirit of the universal Church.
The children will receive a booklet that will make them missionary members of the Holy Father, a calendar with prayer intentions and acts of charity for each week of the year and a bracelet with the personalized image of the Pope, the founder Msgr. Charles de Forbin-Janson and the symbol of the mission, the missionary cross. All of the children present at the event will receive a small guide containing information about the Missionary Childhood and a flag that they will be kept as a memory from this special day. On this occasion, the Baptized and Sent hymn will also be presented. After the mass, there will be an artistic moment prepared by children from all different parishes of Bucharest and at the end, the children there will enjoy a fruit juice and a slice of pizza.
The Missionary Childhood is one of the four works of the Holy Father. It was founded in France on May 19, 1843 by Bishop Charles de Forbin-Janson to help the children of China. The prelate, deeply marked by the fate of the Chinese children who died without being baptized and regretting that he could not go there personally as a missionary, was inspired to involve French children through prayer and material help.

The motto "Children helping children" and the Hail Mary prayer summarizes the founder's intention and his charism: the formation of a missionary mentality within children.

The feast of the inauguration of the Missionary Childhood in Romania marks the commemoration of the 176th anniversary of the foundation of the work in France.